Cheltenham, VIC: Dentist On Warrigal Cheltenham is focused on delivering personalised care. This move is bolstered by a treatment approach that takes away fear and promotes the use of advanced dental technology. The practice is always looking for new and emerging technology to ensure patients remain comfortable throughout the treatment. Their core services include General Dentistry, Cosmetic Dentistry, Dental Emergency, Orthodontics, and Restorative Dentistry. Dentist On Warrigal Cheltenham is happy to introduce FREE consultation for Invisalign and Dental Implants.
For many years, Dentist On Warrigal Cheltenham has been serving the residents of Cheltenham and Bayside suburbs. Their work philosophy is hinged on doing what is right, and that entails performing thorough investigations of the patient situation. The Cheltenham-based dentistry has upgraded patient care with a digitised workflow to enhance service delivery. Lead dentist, Dr Mini Ravindran, manages the clinic and has over 15 years of experience practicing family dentistry in private and private settings. 
The dental practice is home to highly trained dentists keen on delivering World-Class dental treatment and uncompromising care. Before establishing Dentist On Warrigal Cheltenham, Dr Mini Ravindran used her invaluable clinical experience to look after patients from different backgrounds and ages. She is a staunch believer in the holistic approach to dentistry. Other team members are Dr Anthony Franzmann and Dr Damian Park, who has 16 years of experience in Dental Implants, Full Mouth Restorations, Oral Surgery, and Removable Prosthodontics. Dr. Anthony Franzmann has more than 30 years of clinical experience in Invisalign, Implant Surgery and Prostheses, Periodontal Surgery, and Cosmetic Dentistry.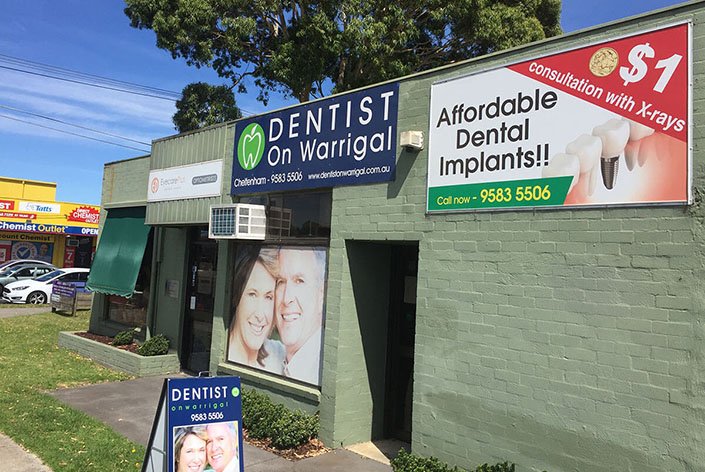 Dentist On Warrigal Cheltenham FREE consultation for patients seeking Dental Implants and Invisalign can also be accompanied by services such as biocompatible dental implants as an apt replacement for missing teeth, while Invisalign is offered as part of orthodontics. The latter works by straightening the smile without the need for wires or brackets. In terms of technology, the dentist Cheltenham clinic has phased out paper-based patient care with digitised workflow by bringing in Intraoral Cameras, Rotary Endodontic Handpiece, and PSP Digital X-ray Scanners. The list also features Blue Laser Soft Tissue Machine, Patient Management Software (D4 Windows), and the most recent entrant; the Philips Zoom LED Teeth Whitening System.
Patients visiting the clinic also enjoy weekend and late evening appointments, and interest-free payments. Dentist On Warrigal Cheltenham accepts leading health insurance providers such as HCF, Medibank, and NIB. The clinic is open from Monday to Friday, 9 am to 5 pm, and Saturday, 9 am to 1 pm. 
To speak to the skilled dentists at Dentist On Warrigal Cheltenham, call (03) 9583 5506 or visit them at Suite C, 151 Centre Dandenong Road, Cheltenham, VIC, 3192, AU. The dental practice serves Cheltenham, Blackrock, Moorabbin, Mordialloc, Mentone, Bentleigh, and other Bayside suburbs.
Media Contact

Company Name
Dentist On Warrigal Cheltenham
Contact Name
Dr Mini Ravindran
Phone
(03) 9583 5506
Address
Suite C, 151 Centre Dandenong Road
City
Cheltenham
State
VIC
Postal Code
3192
Country
Australia
Website
https://dentistonwarrigal.com.au/