Denham Springs, LA: Approach Freedom Bail Bonds offers professional bail bond service that includes fantastic customer service, quick response time, and expanded payment plans. Besides the bail bond service, the company provides bail financing, bill payment services, low-down bail bond payments, and affordable bail bonds. Bail financing is a critical service designed to ease financial worries. A bail bondsman agent in Baton Rouge and Livingston, LA, will take time to ensure a payment plan that fits the client's budget is developed. Clients are asked to browse our website to learn more. 
At the core of Approach Freedom Bail Bonds, service delivery is a commitment to provide bails to help clients or defendants get out of jail in the shortest time possible. A support team working 24/7 is available to answer all questions and ensure clients make the right choices. Jeffrey Bourriague owns the bail bond service.
Because Approach Freedom Bail Bonds understands the stress and pain of being in jail, they can help the client get out of jail fast by taking advantage of the affordable bail bond payment plans. The company's bail bond process begins by assessing the bail amount before working out a reasonable plan. This is followed by posting bail to get the client out of jail or correctional facility. Once the client is released, the company will complete the recommended paperwork and see to it that all the fees are covered.
The availability of affordable bail bonds offered 24/7 means clients or their loved ones do not need to break the bank to escape jail. A quick, easy and affordable bail bond service and respectful customer service are key reasons customers are approaching the team. With bill financing, clients can make bail bonds without ruining their hard-earned savings. In need of a bail bond? An Approach Freedom Bail Bonds agent in Baton Rouge and Livingston, LA, is ready to get to work. After posting the bond, it takes as little as 4 to 12 hours to have a loved one released from the correctional facility. 
To expedite a release from jail, Approach Freedom Bail Bonds has agents strategically located in jails. The defendant only needs to contact the team. Once the professional agent is reached, the defendants need to provide their name, date of birth, jail number, the facility they are held in, county of arrest, and the date of the arrest. The bail bond service will then arrange to meet the defendant in person. 
The bail bonds agent at Approach Freedom Bail Bonds can be reached at 225-243-4863. Their office is located at 8670 Sandpiper St, Denham Springs, Louisiana, 70706, USA. Areas served by the company include Denham Springs, Walker, Monticello, Satsuma, Watson, Innisworld, Shenandoah, and Livingston.
Media Contact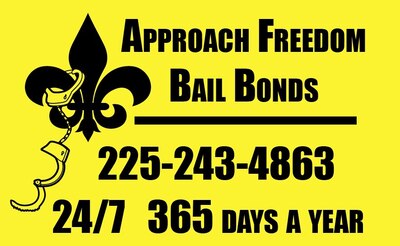 Company Name
Approach Freedom Bail Bonds
Contact Name
Jeffery Bourriague
Phone
225-243-4863
Address
8670 Sandpiper St
City
Denham Springs
State
Louisiana
Postal Code
70706
Country
United States
Website
https://approachfreedombailbonds.com/